My role
UX Designer/Researcher
UI Designer
Company overview
TravelMaster is an Irish bus service that allows people to book a two-way individual bus seat to popular upcoming events such as concerts, festivals and sporting events. In 2019, the company had 50 pick up points in 16 counties with
40 thousand plus customers going to 150 events. 
The company currently has a website where all event searches, bookings and payments take place. A QR code is then emailed to the customer to use on the day of travel.
Opportunity 
To increase the Users Experience, the company will be launching a Passenger and a Drivers app to connect the passenger and driver with real time tracking (GPS) and communication to avoid frustrations. This also gives TravelMaster the facility to grow in the future into Educational travel and to expand outside of Ireland.
Outcome  
A tracking application with booking and communication features.
The Process
The lean UX methodology Think (empathise, define and ideate), make (designing the experience) and check (Learn) was implement throughout the process.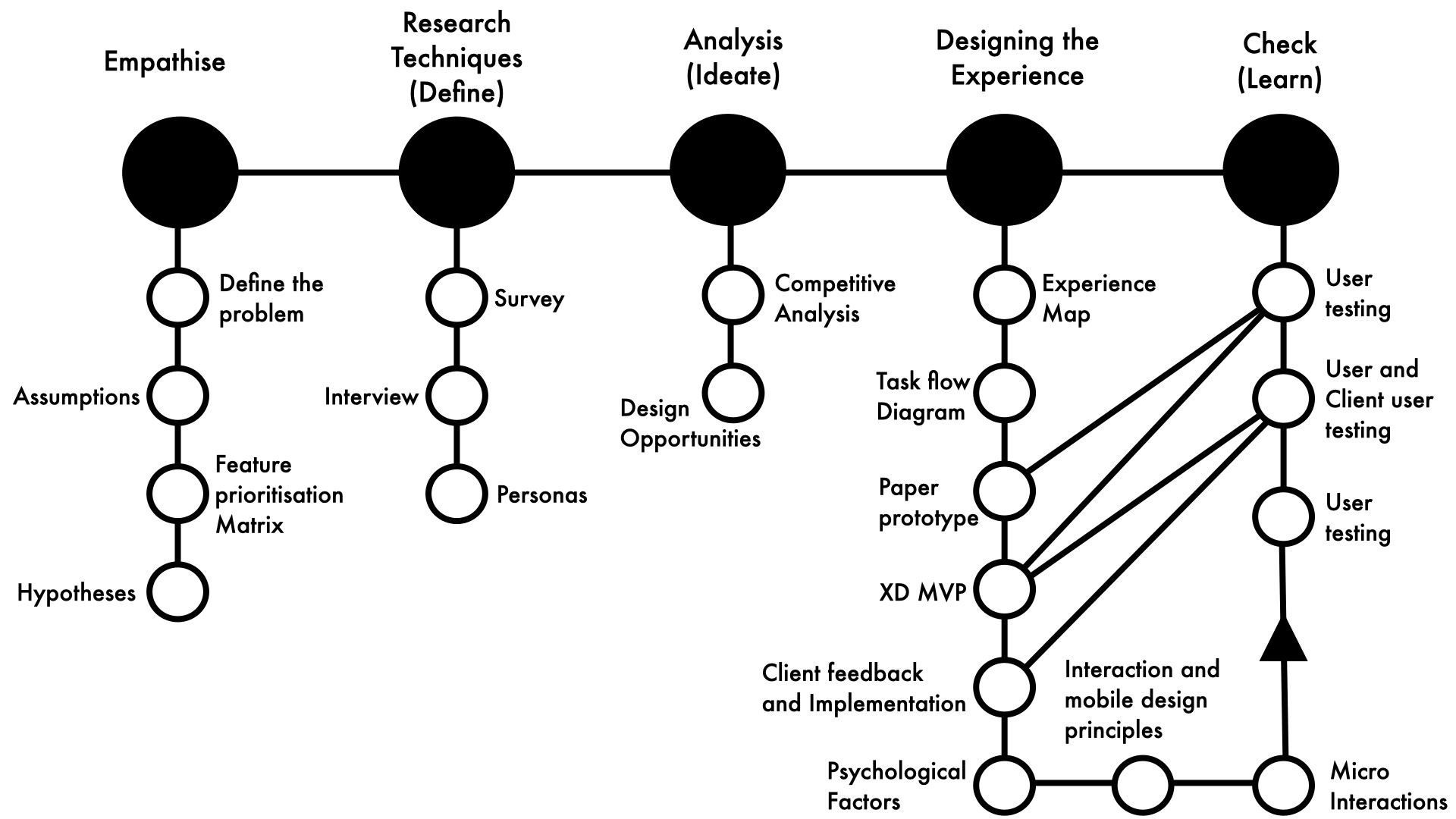 The Problem
Passengers lack information about travel times and bus location, resulting in travel anxiety and missing buses. Passengers feel under valued and expect technology to aid a stress free travel experience. 
The current state of TravelMaster has focused primarily on selling individual bus seats through their website designated to a particular event e.g., Electric Picnic. What existing services fail to address is the ability to track and connect users with their booked bus and driver, creating a 
Lack of communication between service and passenger.
There is also no easy access to QR code or ticket. Our new Passenger app will address this gap by always
connecting the passenger to the admin portal and bus
to limit travel anxiety. Our initial focus will be tailored to 16-to-30-year old's that travel to events by bus.
Business Assumptions: 
1. I believe my customers have a need to

… have easy access to their QR code when getting on the bus, tracking to find bus after events to safely get home. 
2. These needs can be solved with

… accessible QR code and GPS bus tracking. 
3. My initial customers are (or will be)

… 16- to 35-year-olds, someone who has bought a ticket to travel ( i.e. ticket master or event ticket) 
4. The #1 value a customer wants to get out of my service is

… Ease of use; easy to scan into bus and find the bus. Reliable and that they trust the service so they can get home safely. 
5. The customer can also get these additional benefits

… A personalised account, Vouchers and money off codes that corresponds with the food/drink vendors and merchandise at the according event the passenger is attending, booking for future events. 
6. I will acquire the majority of my customers through

… the TravelMaster Facebook page, to link the user to the website to book. If we are the main travel partner for the event. It's from their social media. Mainly FB. Google search. Advertise app on social media, and event websites to get event attendees to download. Link to booking on the new app. 
7. I will make money by

…The more buses that travel and are full. Full bus= profit and empty seats=no profit. It's the last 10 people that make the company the most money. Full bus=full profit. There for making TravelMaster the first company people think of then traveling to an event due to its enjoyable experience. 
8. My primary competition in the market will be…

Only a few companies – Irish concert travel, marriage and coaches – shuttle bus. Then, McD runs an app called events app (Entz) transport, bedrooms etc. 
9. We will beat them due to

…having the technology of an app with no need to google search just tap the app icon that has been downloaded and all can be achieved in the app. Better experience. Open, Search, Book, Track. 
10. My biggest product risk is

…technology and smaller events gaiety, older people gigs (selling at a loss) 
11. We will beat them due to

…on demand filling up the bus – bus won't go until we reach a threshold of number. 
12. What other assumptions do we have that, if proven false, will cause our business/project to fail?

…That the app or tech can cope with busy days – no delays or crashing. 
1. Who is the user?

Outgoing individuals traveling to events primarily aged 16 – 35. 
2. Where does our product fit in his or her work or life?

Leisure, the consumer will be attending an event they have already bought a ticket for. 
3. What problems does our product solve?

For every popular event in Ireland TravelMaster can take the user directly to the door that can be tracked for the duration of the event so the user feels relaxed and safe at all times. 
4. When and how is our product used?

…The day of the event, days leading up to the event and long before the event to book seat. 
5. What features are important?

... Look modern (minimal design), easy to use, simple navigation and minimum steps to complete tasks. Colour reflects the brand, Personalisation, vibration alerts eg.''Hi Jack, your bus has arrived'' ''your bus is delayed 10 minutes". Interactive Map with driver. Driver/Bus profile including drivers name and photo, bus photo and registration number. 
Feature prioritisation Matrix
"We believe that

With the ability for passengers to track and connect with booked buses, having easy access to QR codes and having a live chat room with updates should they be needed there will be better user experience and communication between service and passenger. 
We will know we're right when

we see a decrease in complaints being made to TravelMaster about passengers not being able to locate their bus and reviewing the percentage of downloads of the app. 
We believe that by supplying the passenger with a real time interactive map of where their bus is from an hour before pick-up until the bus driver has finished his last drop off point this will reduce travel anxiety and passengers missing their bus. 
We will know we're right when we see the KPI of a decreased number of in passengers missing their bus, we will also test this by asking the targeted market if they would find this beneficial. 
We believe that having an easy to access QR code with travel details saved in the App will provide ease of use for the users. 
We will know we're right through conducting user interviews asking the question "would you download this app and use it?" We will also get results when we see the KPI of how many people downloaded the app. 
We believe that incorporating a booking feature in the app will increase sales of seats. 
We will know we are right after conducting online surveys on gaining feedback on whether people prefer booking bus tickets online or true an app. 
We believe that having the option of attaching a memory "a photo" to an event in the TravelMaster app will increase the likelihood of users sharing on social media . 
We will know where right true online surveys asking the question do you take photos at events for memories and do you post them on social media?
We believe that passengers like to make friends on buses to events with the use of a TravelMaster story specific to each event eg. (TravelMaster attendees at Katy Perry). This would be similar too Facebook, Twitter and Instagram's story feature. Passengers on the bus can upload photos that would last 24 hours this will give people on the bus the opportunity to connect with new friends that they potentially made at the event and to receive photos from the event after the event has finished. 
We will know this is true by interviewing users and asking them how they socialise with people at events and by observing if user testers would avail of this socialising feature. 
We believe that having in app coupons targeted at food vendors and merchandise at the event that the passenger are traveling too will encourage people to download the app for traveling and to keep the app for future use. 
We will know we are right after interviewing the targeted market. 
Research techniques (Define)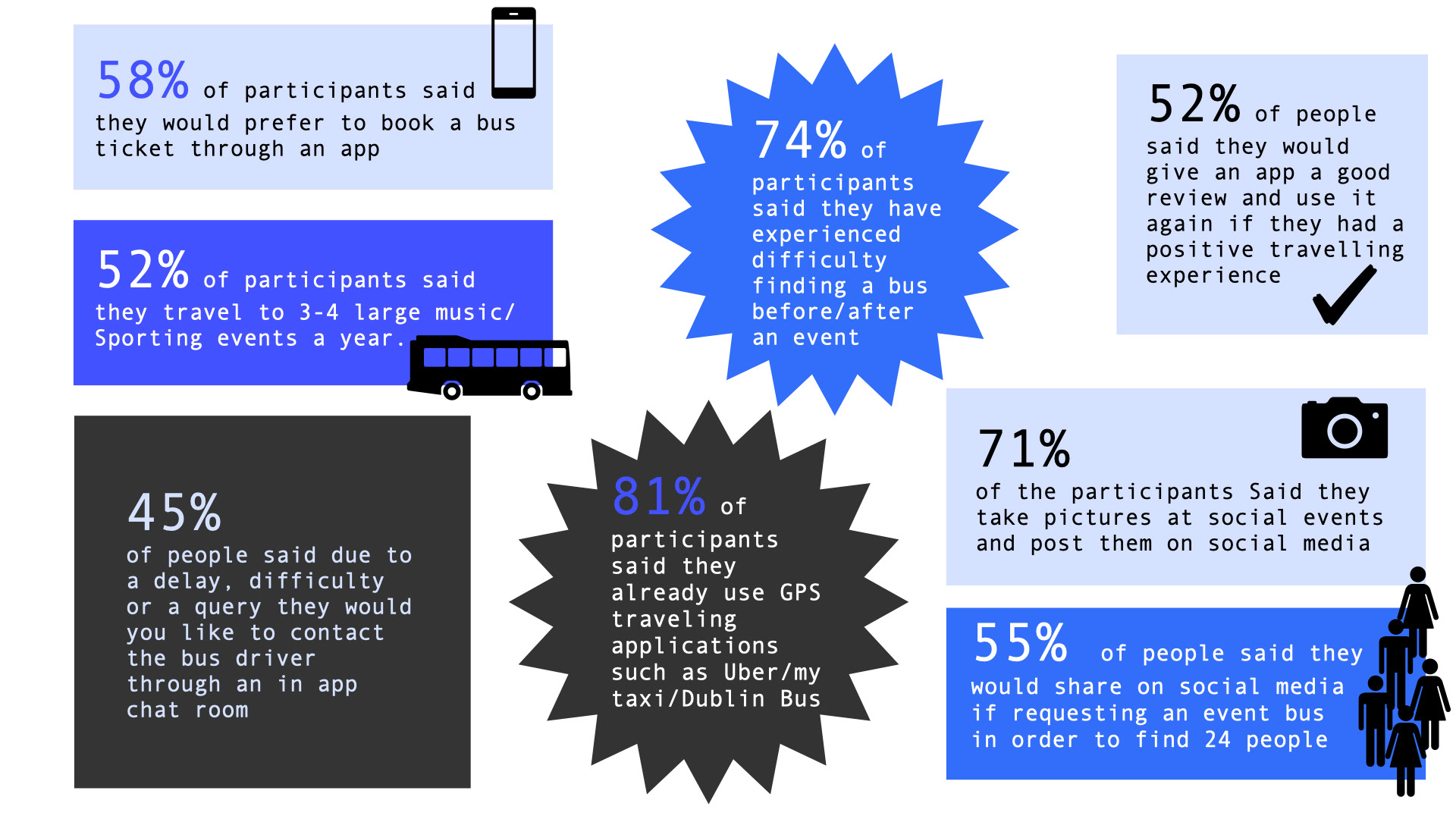 Customer feedback 
As TravelMaster is already an established business data regarding
FAQ
and
complaints
helped to understand uses pain points and opportunities moving forward into the make phase. 
The bus
"not being where it said it would be after an event"
was a reoccurring theme by users.
Initial personas, full of assumptions.

Persona based on research found through

user surveys

,(quantitative) 

customer complains

and

user Interview

 (qualitative).
Analysis
Competitive analysis and design opportunities 

Iteration one (Paper Prototype) / User feedback.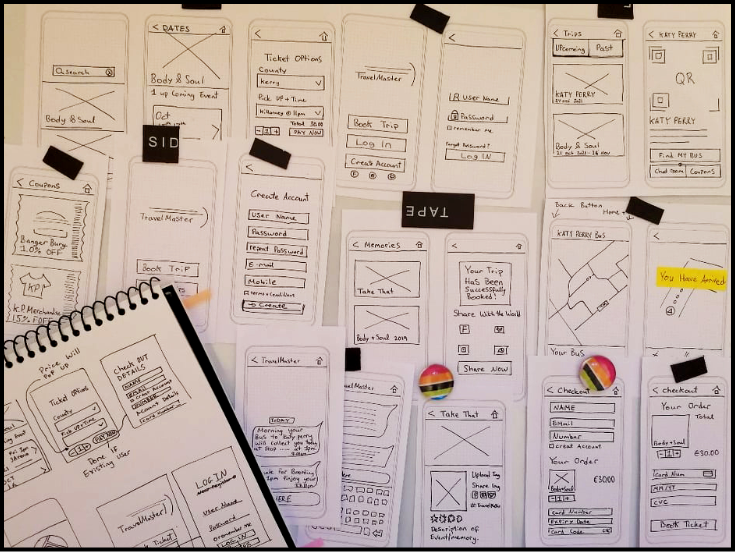 1)
Make the ''directions'' button larger on the screen that shows where your bus is / the find my bus page.
2)
Arrows to the bus on the find my bus page. 
3)
An easier way to get to notifications and chat room. Have it easier to see updates by having a notifications icon 
in the Nav bar. 
4)
27 year old male said he wouldn't upload a photo to past events. 
5)
Rise the search bar on the book a trip page so as there is not such a big gap between searching an event and targeted events suggested.
Iteration two (XD MVP)/ User feedback
1)
From reviewing all the users feedback it became clear that if TravelMaster want to have an
event bus this would be more successful if included within the TravelMaster app
. As four of the five testers stated they would "
prefer it there
" and that they would also
use it if they "had tickets to an event and couldn't find any other way to get there
." One of the users said they didn't mind as long as the link to download event bus was included in the app.
2)
All users liked the coupon feature but some comments were that the button for the
coupons should illustrate that they are coupons
better or have a description of what it is. 
3)
Users were also unsure about the TM
TravelMaster story
 feature some comments were that it should have had "
add story here
". There was also a pattern of the older the user the more confused they were about what it was. The 18 year old said he would use it and the 25 year old user said they would use it depending on what the crowd was like on the bus. The 27 and 28 year old said they probably wouldn't use it but liked that it made a memory to look back on.
4)
More detail
is needed on the arrows as these need further designing as well as the speech bubble at the top that indicates notifications coming in to the passenger.
Client feedback implemented

The first change I implemented to the app was introducing the bottom navigation bar. The previous MVP had a very limited top navigation and no bottom nav bar. By giving the passenger app a bottom navigation bar with the five prime features it provides ease of use for the user as they are all in the thumb zone area. 

I also decided to place the "More" button with a dropdown interaction on the top right-hand corner for secondary features.
In the MVP, the navigation to event bus hadn't been fully developed with only a link to download a separate app. From both testing with users and receiving client feedback it was decided that TravelMaster should have a create your own trip feature. It is now highlighted text to show that it is clickable and when clicked the user is brought to a create your own event page where all is explained in a four step guide. 
Log in screen and landing screen
Once the user is logged in and on-board the app the passengers landing page will be the book ticket search page. From here the user can easily switch to My Trips, QR Code, Chat or Find My Bus via the navigation bar. 
It will also encourage people to make bookings as they are brought straight to this page instead of a page with lots of options that they may not necessarily want unless it is the day of travel. If it is the day of travel My trips, QR Code, Chat and Find My Bus are only one tap away as they are in the bottom navigation bar that appears on all screens after login.
The client also suggested promoting the chat room, therefore I decided it was best that it was in the bottom navigation bar so that the user can access this at all times and see updates and notifications when they come in easily.
Interaction design principles 
The following are the tasks users were asked to complete:
1. Login to the TravelMaster app 
2. Book a seat to an event 
3. Create a trip 
4. Access QR code 
5. Find your buses location 
6. Chat to the driver 
7. Access coupons 
8. Log out of the TravelMaster app 
Changes make after usability testing
Task 3
Create a trip
scored partial success for all three of the users. As they stumbled to find this initially before figuring out it appeared after searching for an event. After testing I asked the users where they would expect to find it, all three users said that it made sense to search for an event first but due to the natural situation of not really creating an event they didn't think of this. I still felt their confusion was very valid as all 3 users stumbled at this task.
To fix this I have included "Create trip "in the dropdown more button on the top right-hand corner.
This could also be useful for someone that wants to create a private trip without having to search for the event first.
Task 7
The final partial success was with the
access coupon
task. The user wasn't sure where to find this, they tried the more button before realising it was under the QR code in my trips, so
I decided this feature should also be included in the dropdown "More" button on the top right-hand corner.
I also decided to create a short three step onboarding process to educate the user about the app, as the three users I tested with were unaware of what TravelMaster offers. The three-screen onboarding can be skipped at any time making it optional for the user.
Some slight colour changes to make text more legible.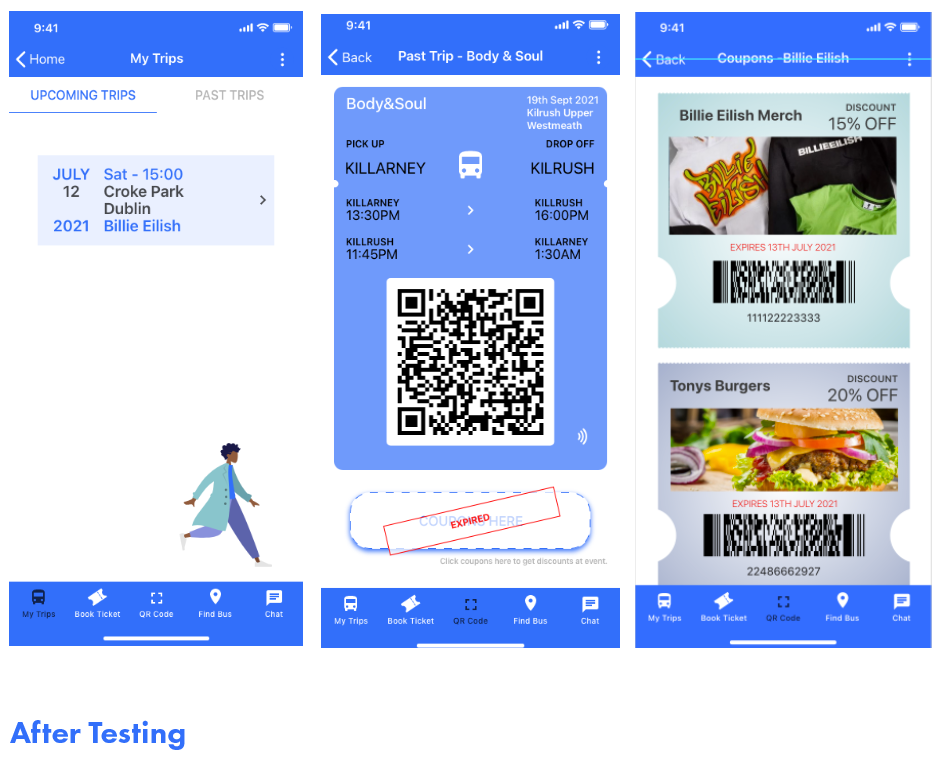 High fidelity prototype

Access working prototype below:
https://xd.adobe.com/view/c62f00a4-9636-4798-bf4a-3decb22c8390-937c/?fullscreen&hints=off